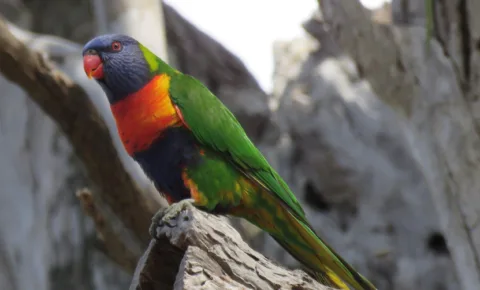 Wildlife Hollow Initiative
Government House Adelaide is encouraging rare and endangered wildlife to return to the grounds through the new Wildlife Hollow initiative.
Australia is home to nearly 350 vertebrate wildlife species that rely on tree hollows.
Of these, approximately one-third are threatened or endangered.
Certain wildlife, such as Parrots, Possums and Microbats, are obligate hollow species meaning without tree cavities, they will be unable to survive in the landscape.
It can take at least 80 years for trees to start forming hollows – and nearly 300 years for a hollow big enough for a Brushtail Possum or Cockatoo to use – but most trees in our urban environment are not at that mature age.

There are almost 500 trees on the grounds of Government House, ranging from natives such as Lemon-scented gums, Golden Wattles, and Melaleucas, to introduced species such as Moreton Bay Figs, Palms, and Pepper Trees.
Only a small number of hollows exist at Government House.
To support hollow-dependent species across the grounds, Government House has installed six wildlife boxes in trees across the grounds, with minimal impact on the health and integrity of the trees.

The Government House Wildlife Hollows feature different sizes, entrances, and perches to suit the needs of animals such as possums, rosellas, and microbats.
The hollows will be used as a safe place to rest and shelter during inactive times, as well as a safe place for animals to build a nest, dray, and roost.