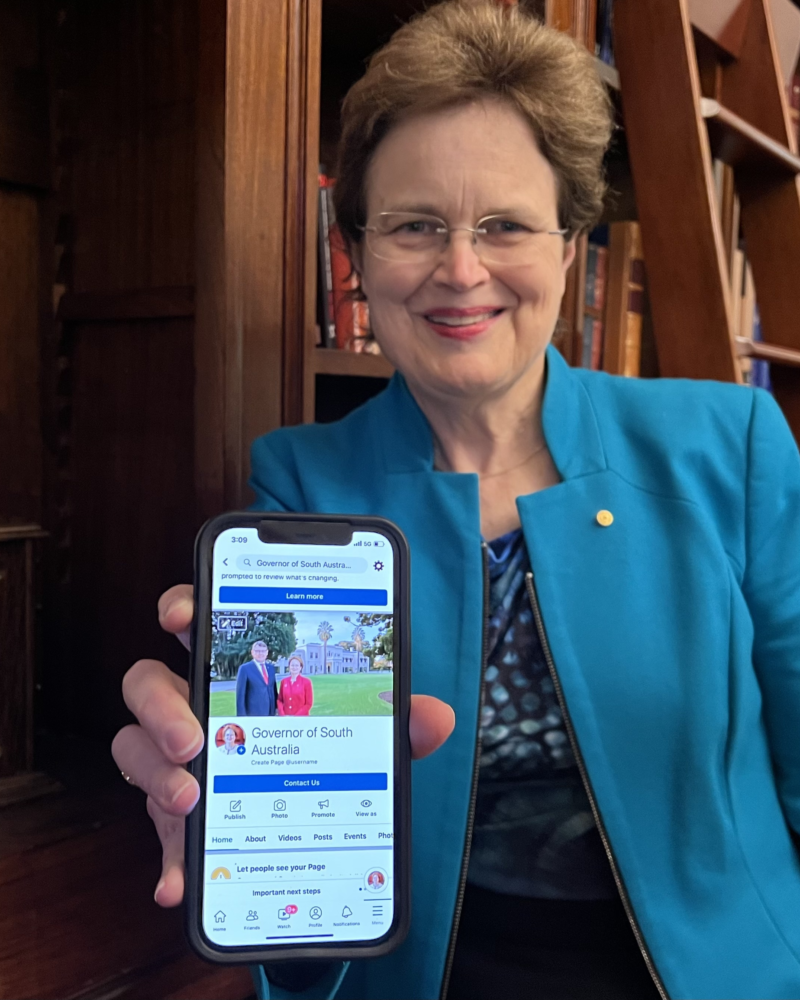 Her Excellency the Honourable Frances Adamson AC is the first South Australian Governor to engage the public via social media.
Through her official Instagram and Facebook accounts, Her Excellency connects people with the constitutional, ceremonial and community roles of the Governor.
The pages also provide a behind-the-scenes look at Government House, which is the official residence of the Governor of South Australia and houses the office of the Governor.
Like Her Excellency on Instagram or Facebook to get an insight into the diverse roles of the Governor and an introduction to some of South Australia's most remarkable people and community organisations.
While we welcome questions and commentary on our social media pages, we expect users to be respectful and relevant.
Social media accounts are monitored by Government House staff between 9am to 5pm, Monday to Friday.
Government House may remove content that does not comply with our Social Media Policy.
Social Media Policy
This includes comments, replies or direct messages that moderators consider to be:
Abusive, harassing, derogatory, racist, sexist, homophobic, or sexually explicit.
Irrelevant to the post to which comments are attached.
Impersonating or falsely representing a person or entity.
Infringing on the intellectual property rights of others.
Containing personal information.
Misleading, deceptive, false, defamatory or libellous content.
Spam.
A violation of Facebook's terms and conditions.
Any breach to our Social Media Policy Terms of Use may result in the user being blocked.
User comments on this page do not represent the official view of the Governor of South Australia or Government House South Australia.
Please visit governor.sa.gov.au or phone 08 8203 9800 to contact Government House.
For questions relating to the South Australian Government, please visit sa.gov.au.
The Office of the Governor may capture photographs or videos of your event and publish these to social media.
By attending an event at Government House, you are consenting to the use of your image, in full or in part, for any Government House purpose, including social media. If you do not wish for your image to be captured, please inform Government House staff.