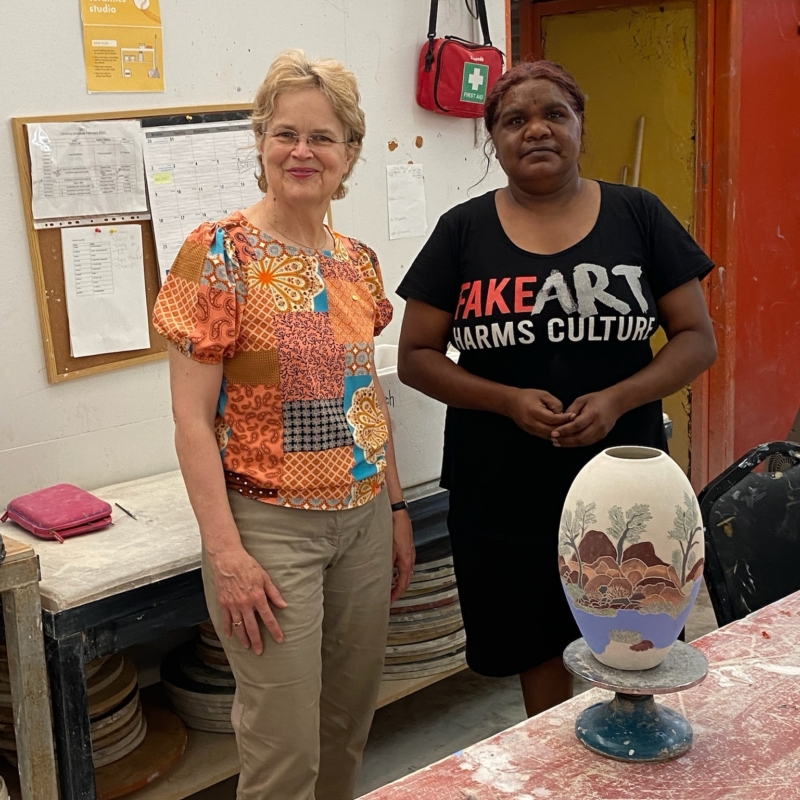 Tuesday, 7 November 2023
On Tuesday, Her Excellency the Governor and Mr Bunten continued their official visit to Anangu Pitjantjatjara Yankunytjatjara (APY Lands).
In the morning, the Governor and Mr Bunten departed Umuwa for Pukatja, and viewed progress on the Pukatja Youth Centre and Community Pool Complex, currently under construction.
Later, the Governor and Mr Bunten toured the Ernabella Arts Centre, and afterwards, met with staff from Purple House.

The Governor and Mr Bunten then hosted a morning tea for members of the Pukatja community.
Afterwards, the Governor and Mr Bunten travelled to Amata, where they hosted a lunch for members of the Amata community, followed by a visit to the Nganampa Health Clinic where they were briefed on operations.
In the afternoon, at Amata, the Governor and Mr Bunten visited the Mai Wiru Amata Store; and toured the Amata Anangu School and met with staff and students.
Later, at Amata, the Governor, accompanied by Mr Bunten, presented parchments to TAFE SA graduates, before departing for Erldunda.
During the day, students from The Heights School toured Government House.