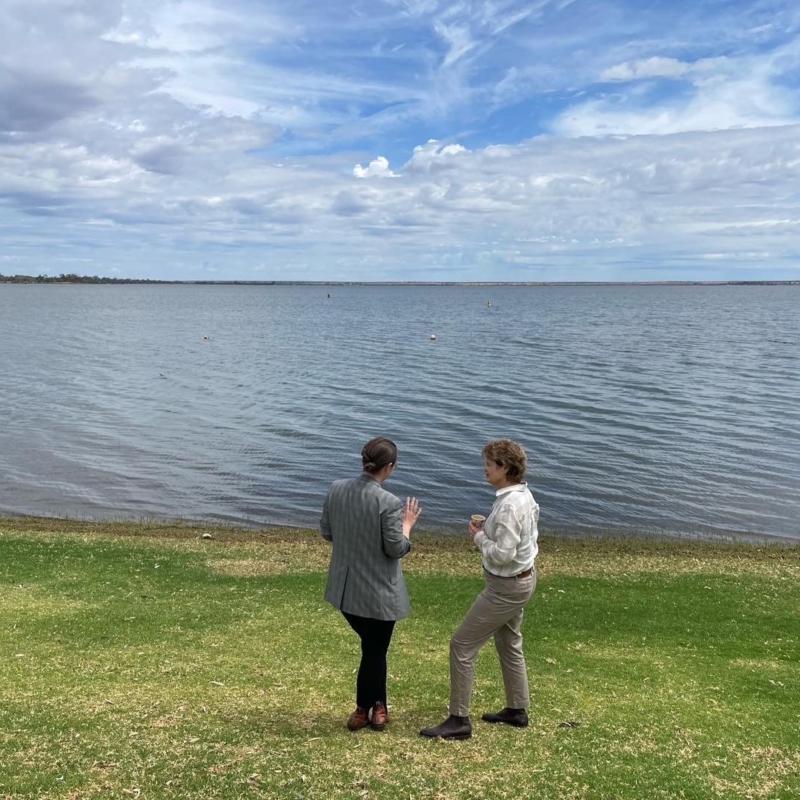 Wednesday, 21 December 2022
On Wednesday, Her Excellency the Governor continued her official Vice-Regal visit to the Riverland to visit flood affected towns.
In the morning at the Hotel Renmark, the Governor had breakfast with His Worship the Mayor of the Renmark Paringa Council, Mr Peter Hunter; and Mr Tony Siviour, Chief Executive Officer, Renmark Paringa Council.
She then departed on a tour of Renmark, meeting with members of the community, local business operators and volunteers in flood affected areas; as well as Berri, visiting the Berri Relief Centre at Berri Senior Citizens Club.
In the mid morning, the Governor departed for Barmera and Lake Bonney, visiting local businesses and volunteer-run Christmas events, as well as viewing Lake Bonney.
In the afternoon, the Governor travelled to Kingston on Murray where she toured flood affected areas and met with local community members, accompanied by His Worship the Mayor of the District Council of Loxton Waikerie, Mr Trevor Norton; and Mr David Beaton, Chief Executive Officer, District Council of Loxton Waikerie.
Later, the Governor received a phone call from the Honourable Stephen Smith, Australia's next High Commissioner to the United Kingdom.
In the evening at Government House, the Governor, Mr Bunten, Ms Claire Bunten, Ms Katherine Bunten and Ms Sophie Bunten, hosted a BBQ for Government House staff and their families and to acknowledge and thank them for their support during the year.