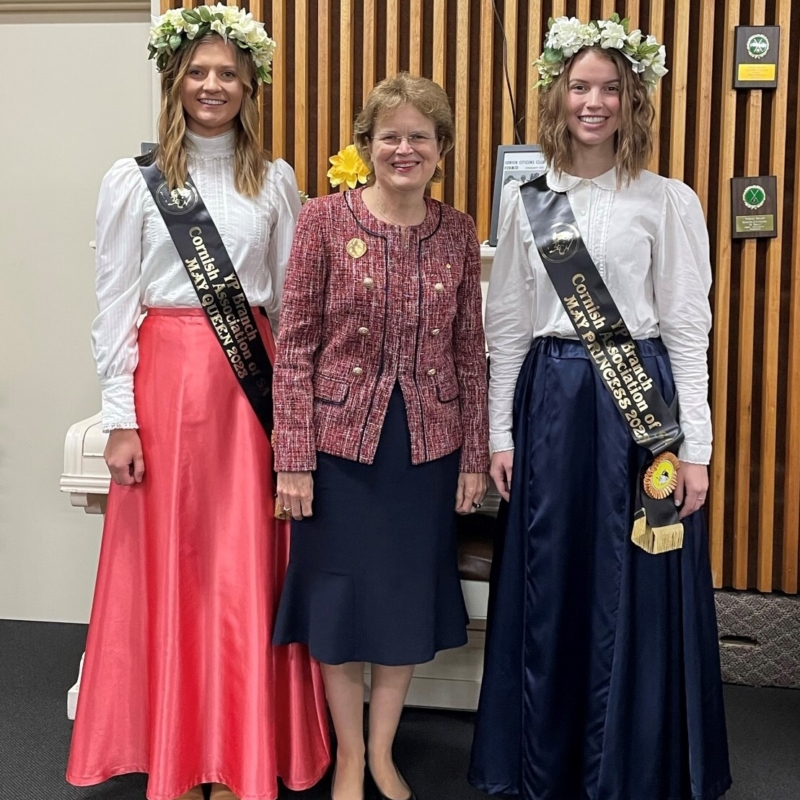 Friday, 19 May 2023
On Friday morning, Her Excellency the Governor continued her visit to the Yorke Peninsula, where, at the Moonta Area School, she met Ms Samantha Schultz, Acting Principal, Moonta Area School, and toured the school.
Afterwards, at Moonta, the Governor, accompanied by Mr Bunten, attended the Kernewek Lowender Copper Coast Cornish Festival, where she officially opened the Moonta Parade and Fer Kernewek.
In the afternoon, at Government House, the Governor and Mr Bunten hosted a reception to thank those who assisted with the preparation for Her Excellency's attendance at His Majesty The King's Coronation. Attendees included Ms Cristina Tridente, Director, couture + love + madness and Mr Petar Filipovic; Ms Hellen Roufos, Seamstress, couture + love + madness, and Ms Tracey Nguyen; Mr Phillip Hold and Mrs Pip Hold, owners, Pip Hold Shoes; Ms Gabriel Stengle, Kaurna, Ngarrindjeri and Narungga Artist, Ochre Dawn Creative Industries , and Ms Muriel O'Loughlin; Ms Penny Horwood, Milliner, Adelaide Hatters, and Ms Ava Horwood; Mrs Caroline Williams, Owner, Adelaide Hatters and Mr David Williams; and Ms Shannon Meers, Client Relations Coordinator, Ochre Dawn Creative Industries.
In the evening, at The Playford, the Governor, accompanied by Mr Bunten, addressed the guests at the dinner for the 2023 Biennial Conference of District and County Court Judges of Australia and New Zealand.

Tomorrow (Sunday, 21 May) from 10am to 4pm, Government House and grounds will be open to the public to celebrate the Coronation and His Majesty The King's connections with South Australia.
Related speech