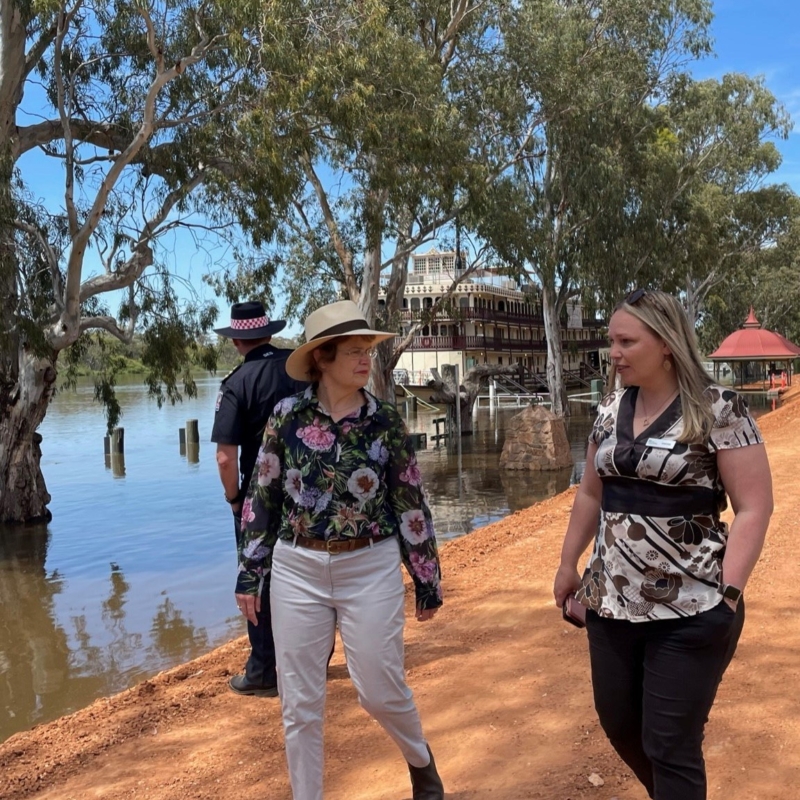 Sunday, 18 December 2022
On Sunday, Her Excellency and Mr Bunten undertook a visit to flood affected areas in the Riverland.
In the morning, at Murray Bridge Rowing Club, and accompanied by Mr Chris Beattie Chief Officer, SASES, His Worship Mr Wayne Thorley, Mayor, and Mr Michael Sedgman Chief Executive Officer, Rural City of Murray Bridge, the Governor and Mr Bunten inspected the DefenCell infrastructure installed by SASES to protect Murray Bridge Rowing Club.
Joined by Mr Adrian Pederick MP and Mr Tony Pasin MP, the Vice‑Regal party then proceeded to SA Country Fire Service (SACFS) Region 3 Headquarters and met with SASES and Australian Defence Force personnel. The party then travelled to Mary Ann Reserve, Mannum, where they were met by Her Worship Ms Simone Bailey, Mayor of the Mid Murray Council and visited the Relief Centre, Mannum. After lunch at Lovells Bakery, the Governor and Mr Bunten proceeded to Mannum Waters Marina and met with marina residents and Mr Mark Flanagan and Mrs Lee-Anne Flanagan, Managers of Unforgettable House Boats. The Governor and Mr Bunten then proceeded via Caloote to Zadows Landing, where they met with local residents and tourism operators, after which they returned to Government House.
On Sunday evening at Government House, the Governor and Mr Bunten hosted a dinner for Ms Rebecca Clarke, Former-Principal, Walford Anglican School for Girls. Guests included Mr James Pyke; Ms Katrina Clarke and Mr Walter Cools and Ms Melanie Clarke and Mr Sean Murphy.