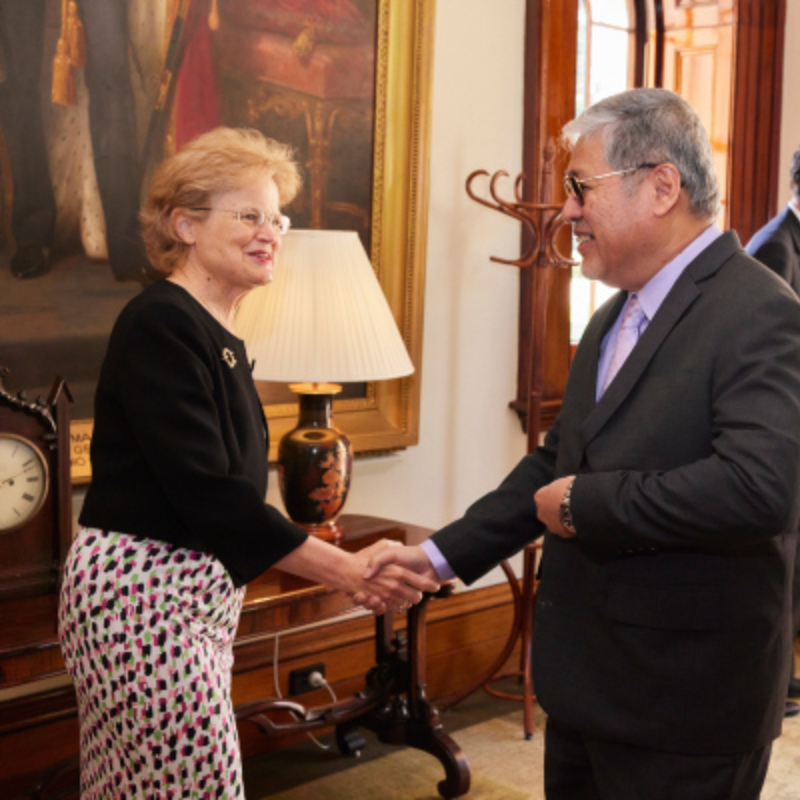 Tuesday, 10 October 2023
On Tuesday morning, Her Excellency the Governor welcomed participants in the 6th Philippines – Australia Ministerial Meeting to Government House. The Australian delegation was led by Senator the Hon Penny Wong, Minister for Foreign Affairs and Senator the Hon Don Farrell, Minister for Trade and Tourism and included Her Excellency Ms HK Yu PSM, Australian Ambassador to the Philippines. The Philippines delegation was led by The Hon Enrique Manalo, Foreign Secretary and The Hon Alfredo E. Pascual, Trade and Industry Secretary, and included Her Excellency Ms Ma. Hellen B. De La Vega, Philippines Ambassador to Australia.
Later, at Government House, the Governor received Ms Johanna Stratton, Director, Southeast Asia Maritime Branch, Office of Southeast Asia, Department of Foreign Affairs and Trade (DFAT), and then Mr Ravi Kewalram, First Assistant Secretary, Free Trade Agreements and Stakeholder Engagement Division, DFAT.
Also in the morning, Mr Bunten undertook voluntary work at Meals on Wheels.
Later, at Government House, the Governor hosted an afternoon tea for a delegation of India's leading female Members of Parliament, who are visiting Australia under the DFAT Canberra Fellowships Program. Guests included Ms Agatha Sangma, National People's Party (General Secretary), Member of the Lok Sabha; Dr Heena Gavit Bharatiya, Janata Party, Member of the Lok Sabha; and Dr Fauzia Khan, Nationalist Congress Party, Member of the Rajya Sabha.