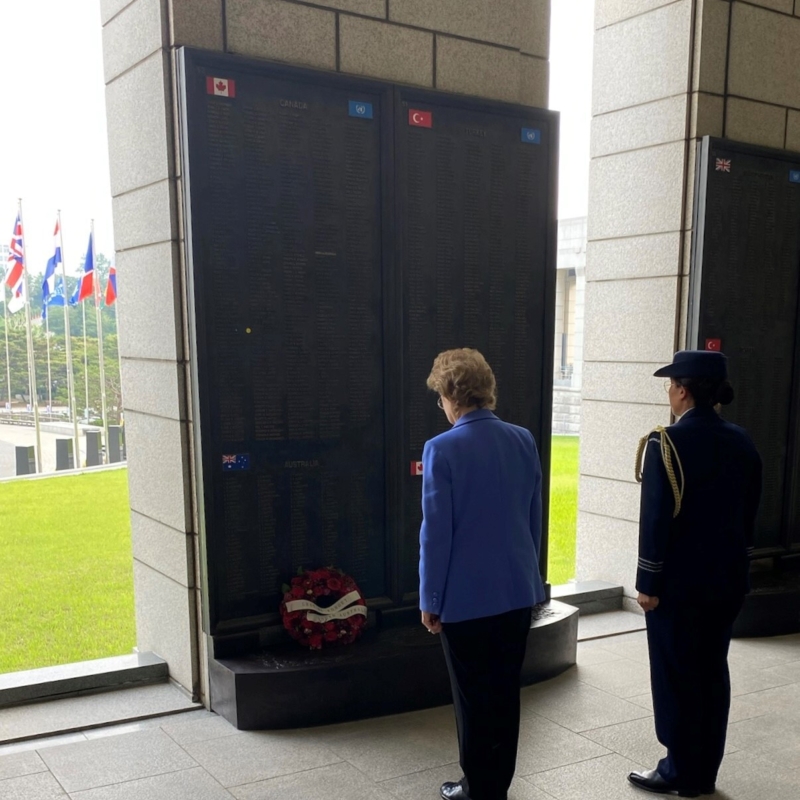 Thursday, 1 June 2023
On Thursday morning in Seoul, Her Excellency the Governor addressed the AustCham Korea – Hydrogen and Green steel business breakfast, hosted by Mr Ross Gregory, Chair, AustCham Korea.
Afterwards, at Hanyang University, the Governor met with Dr Ki-jeong Lee, President, Hanyang University; Mr Youen Kim, Dean, Graduate School of International Studies; Mr Youngkyoo Kim, Professor, Graduate School of International Studies; and Mr Hyukjun Kwon, Director, Office of International Affairs and, later, addressed students.
In the afternoon, the Governor, as patron of StudyAdelaide, addressed education agents at a StudyAdelaide luncheon, hosted by Ms Jane Johnston, Chief Executive, StudyAdelaide.
Later, the Governor met with Mr Chagmin Ma, Chief Executive, DL E&C and afterwards, the Governor met Mr Jooun Park, Chief Financial Officer, Doosan Fuel Cell.

Afterwards, at the War Memorial of Korea, the Governor met Squadron Leader Esther Suh, Assistant Defence Attaché, and laid a wreath.
Later, the Governor departed Seoul for Adelaide.

In the evening, at the Royal Australian Air Force (RAAF) Edinburgh Base, Mr Bunten attended the Edinburgh Dambusters Dining in Night.
On Thursday morning, at Government House, His Excellency the Honourable Chief Justice Chris Kourakis, Governor's Deputy, presided over a meeting of the Executive Council.