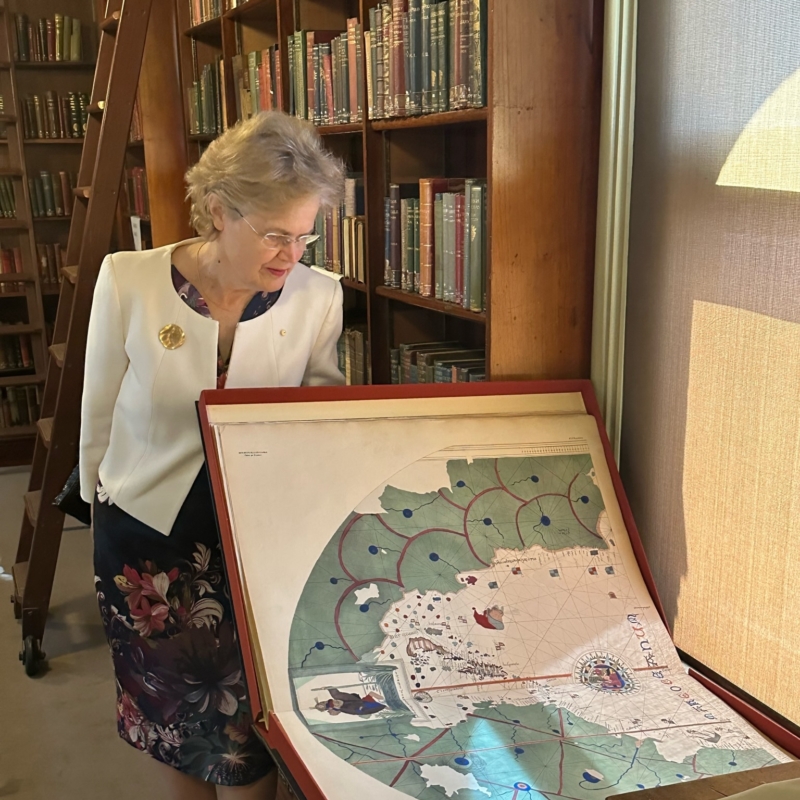 Thursday, 9 November 2023
On Thursday morning, Her Excellency the Governor presided over a meeting of Executive Council.
Afterwards, at the Mortlock Wing, State Library of South Australia, the Governor and Mr Bunten, who are joint patrons of the Royal Geographical Society of South Australia, toured the Royal Geographic Society of South Australia Library.
Later, the Governor spoke by telephone to Ms Bronwen Dohnt and afterwards, at Government House, received Mr Anthony Steel, former general manager of the Adelaide Festival.
In the afternoon, at Government House, the Governor and Mr Bunten held a luncheon for Health and Medical Research Patronage Organisations. Guests were Professor Maria Makrides, Executive Director, South Australian Health and Medical Research Institute; Mr John Mannion, Chief Executive Officer, Breakthrough Mental Health Research Foundation; Ms Allison Smith, Chief Executive Officer, Cystic Fibrosis South Australia; Ms Angelique Pasalidis, Chief Executive Officer, Diabetic Association of South Australia (Diabetes SA); Mr Greg Ward, Chief Executive Officer, Novita, and Executive Director, Channel 7 Children's Research Foundation; Adjunct Associate Professor Shyla Mills, Chief Executive Officer, Palliative Care SA; Mr Raj Chand, Chief of Client and Patient Services, Hospital Research Foundation; Dr Ainslie Derrick-Roberts, Deputy Chair, Lions Medical Research Foundation SA; Adjunct Associate Professor Sally Sara, Director of Nursing, Prostate Cancer Foundation of Australia; and Mr John Stock OAM, Ambassador, Epilepsy Association of SA and NT.
Afterwards, at Findon, the Governor officially closed the Community Centres SA Conference: 'People First: Prioritising Community Wellbeing'.
Later, at Government House, the Governor hosted a reception for the 2023 South Australian Women's Honour Roll Awards.
In the evening, at Government House, the Governor, who is Patron of the Association of Totally and Permanently Incapacitated Ex-Service Men and Women (SA Branch) and Mr Bunten received Mr Doug Baird OAM, father of the late Corporal Cameron Baird VC MG. Afterwards, at Torrens Parade Ground, the Governor addressed the gathering at the Reflections Veteran's Art Exhibition and unveiled a portrait of Corporal Baird.