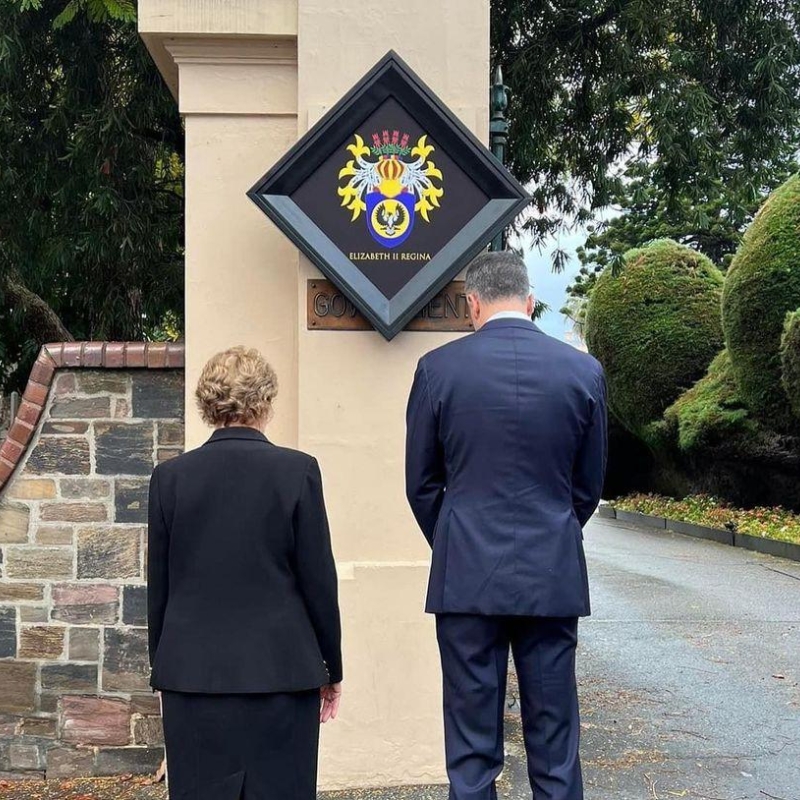 Friday, 9 September 2022
On Friday morning at Government House, Her Excellency the Governor, accompanied by the Premier, the Honourable Peter Malinauskas MP, observed the mounting on the gates of Government House of a hatchment, or ceremonial coat of arms, to mark the death of Her Majesty Queen Elizabeth II. Hatchments have been mounted at Government House Adelaide to mark the death of the Sovereign since that of Her Late Majesty Queen Victoria.
Afterwards, the Governor and Mr Bunten, and the Premier and Mrs Annabel Malinauskas, laid wreaths at the statue of Her Majesty in the grounds of Government House and signed the condolence book.
Later the Governor received Senator the Honourable Penny Wong, Minister for Foreign Affairs.
Also in the morning the Governor and Mr Bunten received the Honourable David Speirs MP, Leader of the Opposition and the Honourable Nicola Centofanti MLC, who signed the condolence book.
In the evening at St Peter's Cathedral, the Governor, Mr Bunten and Ms Sophie Bunten attended the Solemn Evensong Service celebrating the life, work and witness of Queen Elizabeth II, where the Governor read the first lesson.