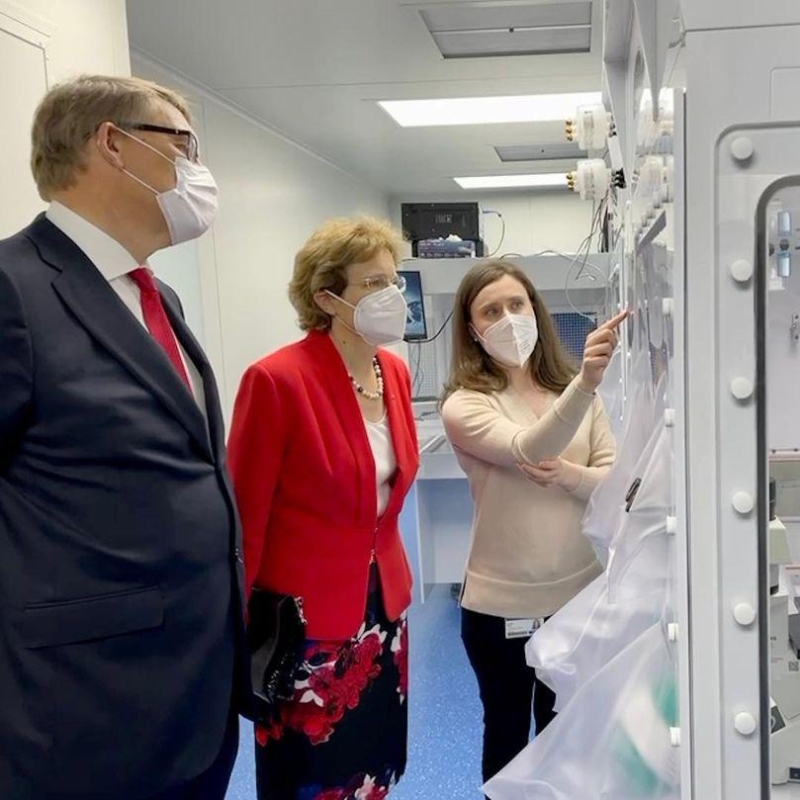 Thursday, 13 October 2022
On Thursday morning at Government House, Her Excellency the Governor, as patron, received Mr Peter Graham OAM, Chair and Life Member, SwimmingSA, and Life Member, Swimming Australia; Mr John Vine Hall, President, Archery South Australia; Mr Peter Royle, Commodore, Adelaide Sailing Club; Mr Jamie Grant, Chairman, Rowing South Australia; and Ms Bronwyn Klei, Chief Executive Officer, Netball South Australia, followed by a breakfast.
Afterwards the Governor presided over a meeting of the Executive Council.
Also, in the morning at Taperoo, Mr Bunten addressed the guests and officially opened the Emergency Services Wellbeing Network's annual Wellbeing Seminar hosted by the SA Fire and Emergency Services Commission.
Later in Adelaide, the Governor and Mr Bunten undertook a visit to the Central Adelaide Local Health Network's
CALHN Biospherix System, where they were briefed on operations and toured the islet isolation facility, meeting with a patient and their family, surgeons, scientists and nurses.
In the afternoon at Government House, the Governor and Mr Bunten, as patrons, received Ms Elizabeth Ho OAM, Chair, Migration Museum Foundation; Ms Pamela Rajkowski OAM, President, Historical Society of South Australia; Professor Sabine Dittmann, President, Royal Society of South Australia; Mr David Baker, President, Royal South Australian Society of Arts; and Mrs Millie Nicholls, Vice President, National Trust South Australia, followed by a luncheon.
In the evening the Governor and Mr Bunten hosted a dinner for retiring regional and country mayors and their partners. Guests included Mr Peter Mattey, Mayor of the Regional Council of Goyder, and Ms Mardi Jennings; Ms Kay Rasheed, Mayor of the Kingston District Council; Mr Leon Stasinowsky, Mayor of the District Council of Loxton Waikerie, and Mrs Lynette Stasinowsky; Mr Neil Martinson, Mayor of Renmark Paringa Council; Ms Alison Nunan, Mayor of the District Council of Robe, and Mr Bradley Nunan; Mr Graham Excell, Mayor of the Tatiara District Council, and Mrs Cheryl Excell; and Ms Clare McLaughlin, Mayor of The Corporation of the City of Whyalla, and Mr Greg Coulter.